Diplomatic Language Services has taken great pride in philanthropy and community engagement since our founding. For the last five years, we have outlined and shared our DLS 1-1-1 Philanthropy Plan while acknowledging the success of the past year. This company-wide initiative is to donate 1% of equity, 1 % of employee time, and 1% of our product.
We prioritize volunteering time and donating money to organizations that are close to our staff and community. We also make a point to participate in community events throughout the year and host fundraisers for important causes. However, 2020 was a difficult year for events, as we could not hold in-person fundraisers like our annual Susan G. Komen Bake Sale or Soup and Bread Sale.
2020 Highlights
The good news is that we found plenty of other ways to give back to the community and the world at large this year! The planned springtime Adopt-a-Highway cleanup of our 2 miles of highway was halted due to the COVID-19 outbreak. However, we were able to get out there in September and collected nine bags of trash!
As this was certainly an unexpected year, staff members used new methods to volunteer their time! For example, staff member, Molly, volunteered at the polls during the Washington, D.C. election. Additionally, staff members, Natalia and Janet, delivered 13 computer monitors to a local elementary school to prepare for the return of students to on-site learning in January.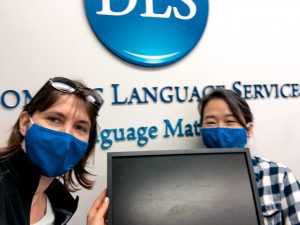 In addition to volunteering our time, we also donated much more than 1% of DLS's equity to the following organizations:
Wolf Trap Animal Rescue
Jude Children's Research Hospital
City Dogs Rescue
International Rescue Committee
Global Center for Refugee Education and Science
The Innocence Project
DC Public Library Foundation
Ocean Conservancy
Global Wildlife Conservation
We Act
NAACP
National Bail Out
Susan G. Komen
Doctors Without Borders
Rails to Trails Conservancy
Fisher House
America Nurses Association
ACLU
CNEWA Lebanese Education Fund
AARP
NPR & WAMU
WETA
Arena Stage
Planned Parenthood
Word Dance Theater
Kennedy Center
Nature Conservancy
Chesapeake Bay Foundation
Girl Scouts
Physicians Committee for Responsible Medicine
Two unexpected charities were added to this list as we faced worldwide issues. In April, we donated $2,000 to HUNGRY For Healthcare in support of the paramount work from our medical professionals during the COVID-19 pandemic. In June, DLS donated $2,500 (plus matched staff donations) to National Bail Out and NAACP. These organizations work to ensure all individuals have equal rights without discrimination based on race.
2021 Plans
In the year ahead, we look forward to learning what other charitable organizations we can donate to. Also, we're excited to reassess which community events we can participate in. We hope to participate in National Walking Day, Adopt-a-Highway Cleanups, and Bike to Work Day. If possible, we hope to hold events that will raise money for MS research and breast cancer awareness.
For more information about DLS's commitment to community service and volunteer opportunities, please contact our Human Resources Department at hr@dlsdc.com.
For more DLS, check out more blogs and visit us on Facebook, LinkedIn, Instagram, or Twitter!