Diplomatic Language Services is happy to announce that one of our own staff members, Monica Mulholland, will be representing us at the upcoming GWATFL Spring Conference. The Greater Washington Association of Teachers of Foreign Languages Spring Conference 2019 for World Language Educators will be held April 27th at 9:00 AM – 2:30 PM at the National Cathedral School in Washington DC. Mulholland, a curriculum developer for DLS will be presenting on public speaking.
Are you anxious about public speaking? You're certainly not alone! Mark Twain famously said: "There are two kinds of speakers: those that are nervous and those that are liars." So, what's the difference between those who speak in front of an audience and those who don't? The former take the plunge and just do it. You can do it, also! This presentation will empower you to become a more effective communicator by teaching the fundamentals of speech delivery. These fundamentals include organization, eye contact, voice projection, eloquence, and body posture. You will practice impromptu speaking and be encouraged to start planning your next presentation. Don't miss out on the GWATFL Spring Conference!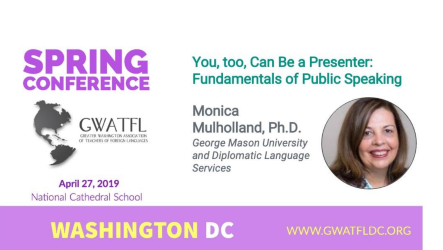 For more DLS, check out other blogs and visit us on Facebook, LinkedIn, Instagram, or Twitter!
By Hannah Gibian