Diplomatic Language Services has successfully transitioned all 659 students, instructors, and staff members who were at an in-person training location online to distance learning. However, just a few weeks ago, DLS had three office buildings bustling with students, instructors, and administrative staff. Within a matter of days, not only did we learn about the risks of COVID-19, we learned that we needed to drastically decrease the traffic in our building. This meant getting our staff teleworking, our instructors teaching online, and our students learning remotely -and as soon as we possibly could.
DLS Distance Learning
In recent years, DLS has seen an increase in distance learning classes, which have proven to be just as effective as in-person training. Fortunately, we had already developed and implemented several necessary systems for online training, including Zoom, our LMS, and DLS Online, our online portal. We've designed our systems to be compliant with all government requirements, cybersecurity regulations, and accessibility standards to ensure the use is suitable for all students and instructors. All this to say, DLS felt well-prepared to continue with minimal interruptions by moving our regular classes to be conducted online.
So, DLS had experience with a portion of classes conducted via distance learning, but now, the task was to ensure that each of our instructors and all of their students could migrate their language training completely online. Our Language Training Department put together Zoom tutorial sessions, office hours, and tutorial videos for instructors and students. These tutorials helped instructors and students feel comfortable using Zoom as their main method of conducting and attending language training. Additionally, DLS facilitated training programs for instructors and students on best practices for online teaching and on online language training resources.
At the time of this post, DLS has over 370 active language classes. For those active classes, this word cloud represents number enrolled represented by word size: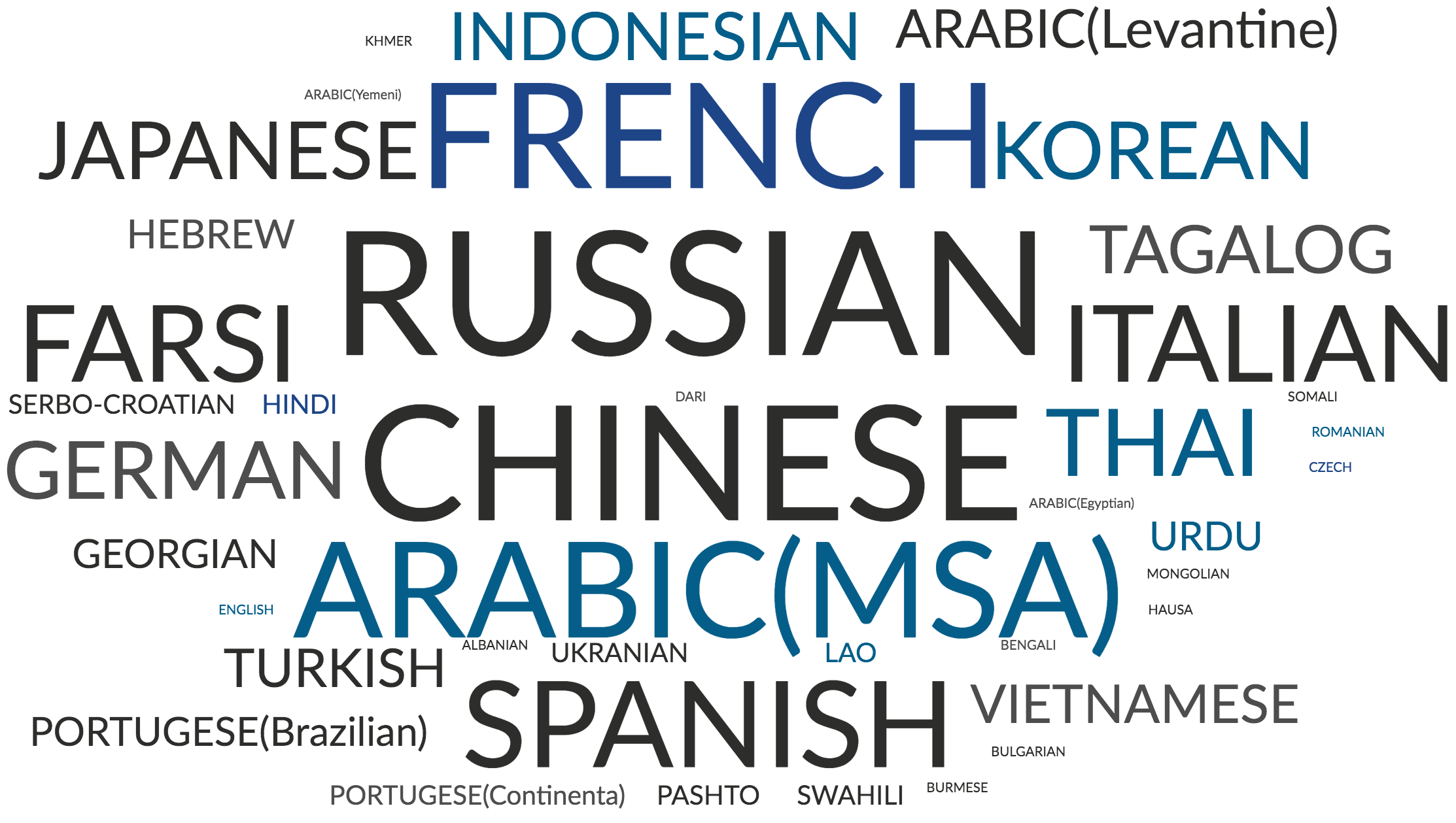 We are so fortunate to be a company that can work, teach, and learn online. The health and safety of our community was – and always is – our priority. To our hardworking language instructors, thank you for your willingness to learn and adapt to new methods of teaching. To our students, thank you for your flexibility and diligence while your language training transitions from in-person to remote. It is our commitment to care for all instructors and students.
Feedback
What has been especially wonderful during this time is to hear how appreciative our students and instructors are of how quickly we moved online and how well their classes are going that the students have started to extend their classes!
"DLS provided a wealth of online resources and made my professors and anyone else I may need very accessible. Very friendly and professional thus far!" 
"Virtual Learning has been a blessing. We are working rather than shutting down. It has saved me 2 hours in commute, and money/cost in gas and parking. It has given me the opportunity to keep working without making me exposed and vulnerable to the virus. I am loving it. I'm comfortable working from the comfort and safety of home. I have the tools for online teaching. So we are just fine." 
Interested to learn more about our Distance Learning service? Contact us by following this link.
For more DLS, check out other blogs and visit us on Facebook, LinkedIn, Instagram, or Twitter!