Tet Trung Thu
In Vietnam, the Tet Trung Thu festival dates back 15-20,000 years in Southeast Asia and is traditionally held on the 15th day of the 8th Lunar Month. This year, the date of the Mid-Autumn Moon Festival is September 15th, the same day as the full moon.
Tet Trung Thu is much like a combination of American Halloween and Thanksgiving. Children parade on the streets while singing and carrying colorful lanterns of different sizes. Dances are traditional and include the dragon dance and the flower dance.
Today, the Mid-Autumn Moon Festival focuses on children and promotes education, poetry, dance, and arts.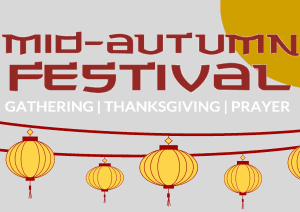 Chusuk
In Korea, Chusuk pays homage to ancestors and a good harvest. Contemporary Chusuk is marked by many Koreans returning to visit their ancestral villages and friends. Traditional elements of Chusok include a marching band, called Samulnori that travels through the village playing music, and Kang Kang Sul Rae, an outdoor dance performance.