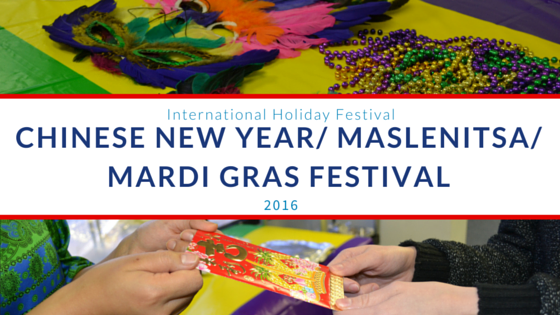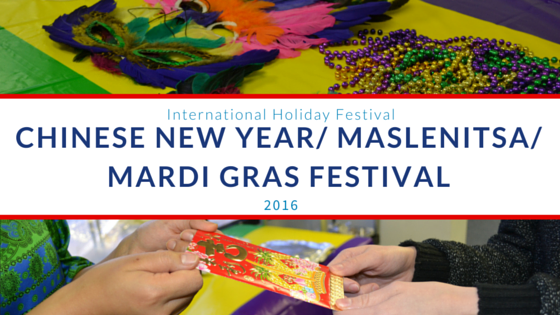 February has been a particularly festive month here at DLS. This month we combined celebrations for Chinese New Year, Maslenitsa, and Mardi Gras to offer our students a multicultural, fun learning experience.
Chinese New Year was represented by our Asian and African Languages Language Training Supervisor, Christina Hayes, and her dedicated instructors. Based on the Chinese lunar calendar, each year is assigned a creature based on the Chinese 12-year animal zodiac cycle. This year is the Year of the Monkey and we celebrated by sharing hongbao, or Chinese red envelopes thought to bestow blessings onto the receiver. Guests also received copies of their name in Chinese calligraphy and enjoyed delicious Chinese food.

Maslenitsa is an Eastern Slavic celebration which follows the Eastern Orthodox calendar. Originating as a pagan holiday celebrating the ancient god Volos, Maslenitsa may be the oldest surviving Russian holiday, as suggested by archaeological evidence. Maslenitsa is commonly celebrated with pancakes or crepes and provides an opportunity to indulge in rich foods such as butter, eggs, and milk before Lent. Our Eastern European and South Asian Languages Language Training Supervisor, Dudley Hagen, did a fantastic job of recreating the Maslenitsa experience for our students by creating a display of traditional decorations and serving honey cake or Medovik, a popular honey torte with cream filling made from 5 to 10 layers of thin, flat biscuits.

And, of course, we could not ignore Carnival or the United States' altnerative, Mardi Gras! The history of Carnival in cities around the world as well as the French influence on our own Mardi Gras were displayed and festive beads were given out.