In blog posts past, we have outlined the first three components of developing a curriculum. The pre-development stages include defining the people, program, and purpose of your curriculum. So, we're ready to envision what you want the final product to look like.
At DLS, we emphasize to our clients that deliberate attention to a bigger picture will enhance the adaptability and utility of your final product. To develop a final product that exceeds expectations, you will have to make foundational decisions regarding methodologies and delivery models. It is essential to understand the ways that these early decisions affect the final product.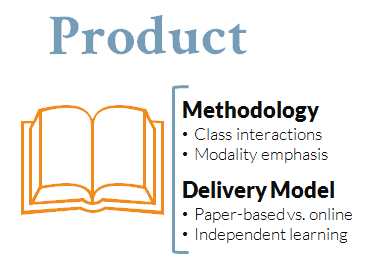 METHODOLOGY
Your organization might have its own model in mind, or maybe you want to collaborate with DLS on ways to enhance what has worked in the past, or your team doesn't have the time, resources, or experience to confidently prescribe your own methodology. Ask the following:
What will your classroom interaction look like? 
The curriculum's methodology will dictate the classroom dynamics and the roles of the instructors and students. You will have to decide on what blend of instructor-centered and student-centered learning best fits the purpose of your course. For example, the former puts the instructor at the center of giving answers, evaluation, and instruction. The latter puts more responsibility on students to work together, which leads to a busier, more interactive environment.
Which modalities will be emphasized? 
Modalities refer to whether the students need to listen, read, write, or speak in the target language. For example, if the students need to translate into English, you would want a curriculum that focuses on listening. However, if your students need to interact with people in the target language, the curriculum would obviously emphasize listening and speaking.
DELIVERY MODEL
A traditional, paper-based course will take place in a classroom with a physical textbook and other related learning materials. Online components can certainly be built into the course for out-of-class work.
If you want your students to access the material independently, this will change the dynamics of group activities, and you'll want to make sure your students could likely manage their time and thrive in an independent environment. It will also require training the instructor and students on how to use an online learning system.
If you want to have live online sessions between the instructor and the students, this will affect the materials and nature of your curriculum. Group activities will require coordination, responsibility, and comfort with technology, and you may need to train the instructor and students.