Have you ever visited Morocco before? We have seen it described as "a melting pot of dynasties and cultures." And it's true! With several dynasties that have succeeded one another over the years, Morocco has gained international consideration as a multicultural country, with several types of heritage recognized as World Heritage by UNESCO.
So, we thought it would be interesting to our readers to share some pieces of Morocco right here on our blog! One of our French and Arabic language and culture instructors, Aicha, shared pictures from her trip back home to Morocco. Below, read about a few special landmarks and traditions!
Cap Spartel
This location is known as Cap Spartel (or Cape Spartel) and is can be found 14 kilometers west of Tangiers. This special place in Tangier connects the Mediterranean Sea with the Atlantic Ocean and has wonderful views. The two signs, pointing in both directions, signify that this is the precise spot where the Mediterranean and the Atlantic meet. To give the place even more charm, Cap Spartel is home to a lighthouse, which lit up for the first time on October 15, 1864. It would be difficult to find such a view anywhere else!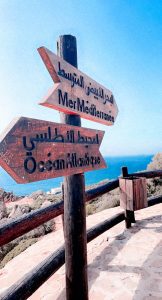 Marina Bay
In the background of this family photo, you can see Marina Bay and Sea Port. Jutting out into the Strait of Gibraltar, the marina includes a long boardwalk full of entertainment. In fact, this boardwalk has several cafes, shops, ice-cream parlors, a variety of restaurants, services to the boaters, covered parking, as well as its mythical Royal Yacht Club of Tangier. The Royal Yacht Club of Tangier, created in 1925, is the oldest in Morocco and was the first on the African continent. Currently, it is in its final phase of transformation into a prestigious water sports and yachting unit, due to the spectacular economic and tourist development.
Moroccan Couscous
Our final picture is a big dish of Moroccan Couscous. Couscous is a staple dish in Moroccan cuisine. It gained international popularity because of its tremendous flexibility, allowing for many variations with seasonal vegetables and different meats. It's common to cook this fundamental dish in large quantities, then enjoying on the national Moroccan holy day, Friday. Couscous is usually served in a communal dish and represents the opportunity to gather and share with family and friends. During a family lunch that our instructor had in her hometown, this particular couscous was served!
Morocco is certainly a country of many fascinating cultural aspects and places. Let us know if you have visited before!
By Aicha Bensaid, DLS Instructor