Today, we're exploring Quizlet and its wonderful use cases for vocabulary learning! Plus, we'll show you how to seamlessly integrate Quizlet sets into our LMS system, to make vocabulary learning even more convenient and effective for students.
Quizlet (quizlet.com) is a dynamic and user-friendly online platform that offers a wide range of tools designed to aid memorization, comprehension, and engagement in the learning process. It's not just another flashcard app; it's a comprehensive suite of study tools that cater perfectly to language learners.
Flashcards: Create digital flashcards with images, audio, and example sentences to reinforce vocabulary and grammar.
Learn Mode: Turn studying into a game with adaptive learning that adjusts to your strengths and weaknesses.
Speller: Practice spelling and listening skills through interactive quizzes.
Match: Test your memory by matching terms with their definitions or translations.
Test: Simulate exams with various question formats, aiding in assessment preparation.
And more, including some Artificial Intelligence (AI) that have just been added!
If you're a beginner to Quizlet, watch the first four minutes of this tutorial video. If you're already a Quizlet expert, skip ahead to start watching at the four-minute mark, where I'll explain how to embed a Quizlet set into your LMS course.
To embed your Quizlet set into your LMS course, first choose which vocabulary set you want to use. From the flashcard activity view, scroll down and click on the three dots beneath the card.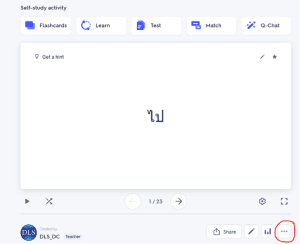 From the options under the three dots, click  <  > Embed.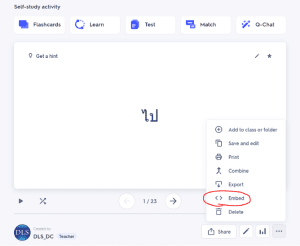 An HTML code will appear as a pop-up. On the lefthand dropdown menu, choose what type of vocabulary activity you want displayed in the LMS. Then, click Copy HTML on the right side.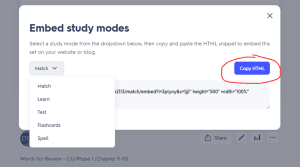 Now, go to the LMS course where you want to embed the Quizlet. Turn Edit Mode on by clicking the green button at the top left corner.
Scroll to the section where you want to include the Quizlet assignment.
Then, click the drop-down arrow on the right side of that section.

After that, click Add an Activity or Resource.

Then, choose Page.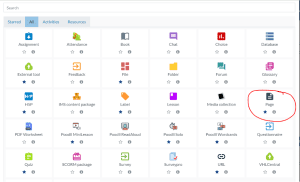 After giving the Page a Title, scroll down to Content and click the down arrow on the left side of the text box.
Next, click the < / > HTML Code button that will appear on the right side of the text box.

Almost there! Now, Delete the HTML code that is there, and Paste the Quizlet HTML code that you just copied from Quizlet.

Don't forget to click Save!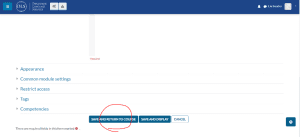 Drag the newly created Quizlet activity to where you want it.

When you click on the activity, a pop-up window will appear with the Quizlet activity. Students can change how they study the vocabulary by selecting a study mode from the bottom right drop-down menu.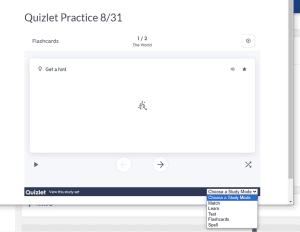 Have fun integrating Quizlet into your classes for some extra vocabulary practice!
By Lia Sauder, Language Project Specialist