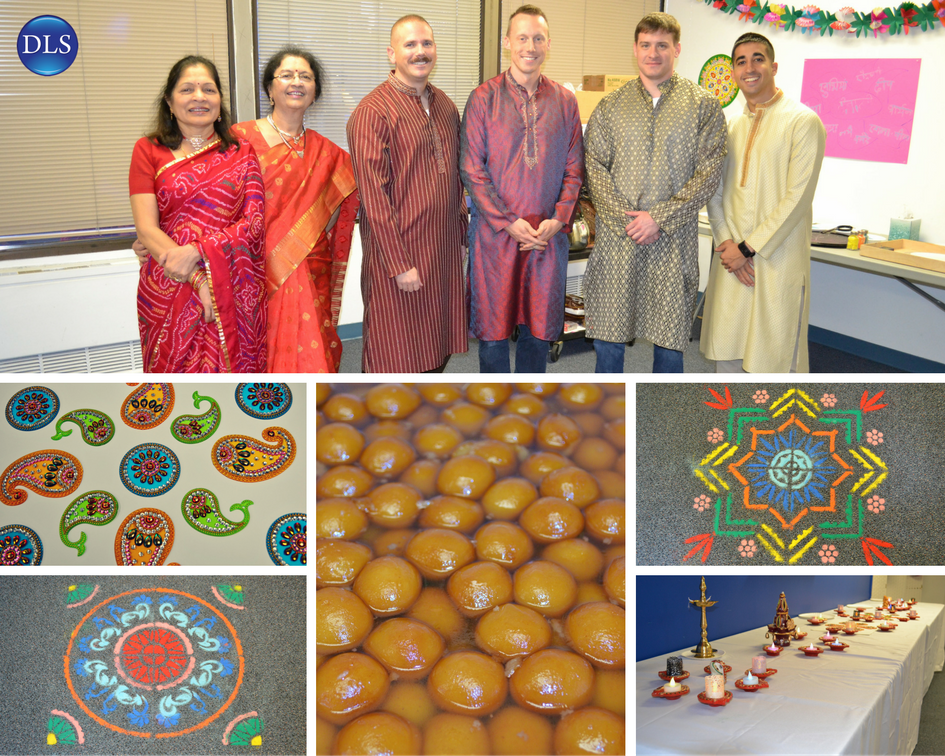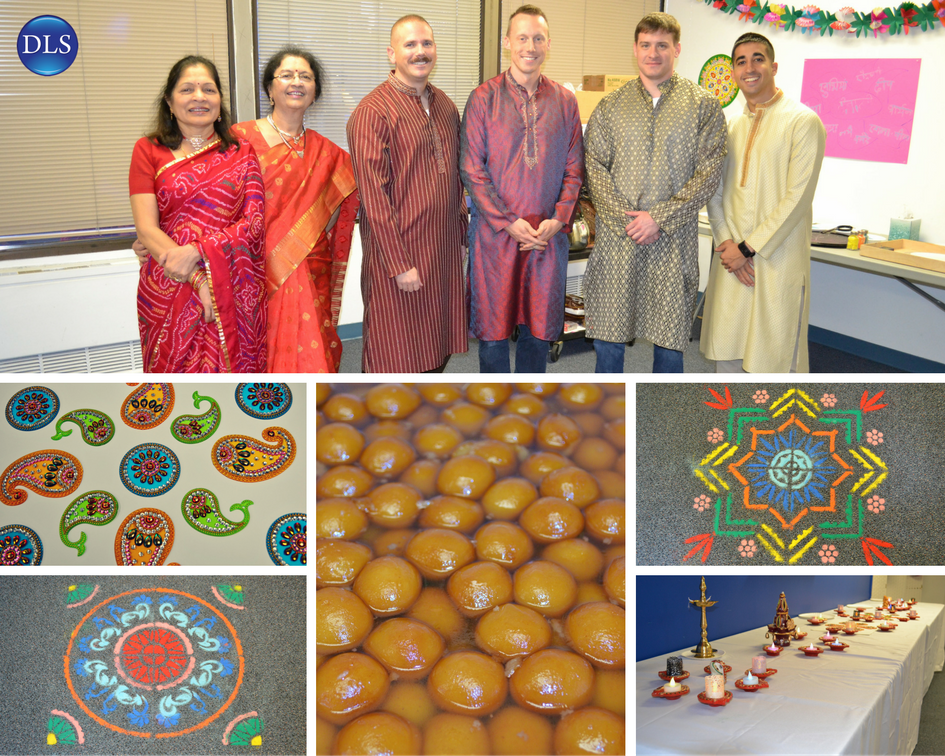 This year, we at DLS held our first annual Diwali event on Lakshmi Puja—the most celebrated day of this sacred Hindu festival.
In accordance with Hindu tradition, Diwali is a five-day festival representative of the ultimate triumph of light over darkness. While Diwali is a harvest festival, celebrants mark this event with specific rituals on each day to symbolize their hopes and wishes for prosperity in the coming year.
On the first day, Dhanteras, people ask for blessings of Lakshmi, the Hindu goddess of wealth. In addition to lighted lamps decorating homes and workplaces, many people draw rangoli designs on their floors and over doorways. Since Dhanteras represents a time of good luck, it is a commonly accepted practice to buy new house wares, start new projects, and choose wedding dates.
The second day of Diwali is known as Narak-Chaturdashi, or Chhoti Diwali, and represents the victory of Lord Krishna over Narkasur the Demon King. On this day, bathing rituals involving fragrant oil baths are performed, women adorn their hands with henna designs, and children make homemade sweets (mithai) with their families in preparation of the third and biggest day of the festival.
Lakshmi Puja, the third day, is the most celebrated day of Diwali. Many believe that Lakshmi visits everyone on Earth on this day, spreading her peace and prosperity to all. Since she favors cleanliness, it is very important for celebrants to keep their houses clean—especially during Diwali. Brooms are worshiped and lamps are lit at dusk to welcome Lakshmi into family homes. Furthermore, significant relationships are recognized on this day in particular. Visiting friends, relatives, exchanging gifts, and cooking for one another are all accepted commemoration styles on Lakshmi Puja. Firework displays are typically the highlight of this evening.
The fourth day of Diwali is reserved for the celebration of matrimonial love and, in some regions of India, Balipratipada serves as New Year's Day. New clothes are worn, lamps are placed between couples, oil baths are taken, and parades take place to celebrate Vishnu's conquer over Bali.
Bhai Dooj, the final day of the Festival of Lights, sibling love is commemorated. Sisters apply sacred tika to their brothers' foreheads, siblings pray for each others' longevity, brothers bless and promise protection to their sisters, and gift exchanges occur between. This day is a popular choice for weddings, and it is also a sign of good luck for daughters to spend time with her parents.