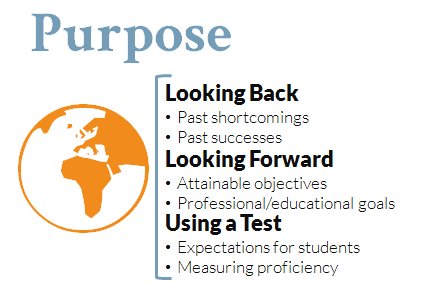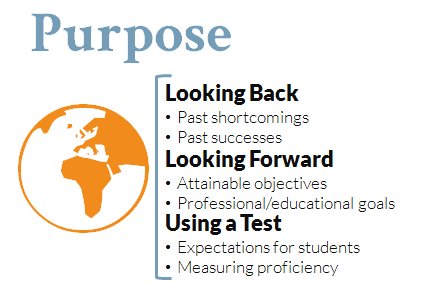 HOW TO DEVELOP A CURRICULUM: PART 3, PURPOSE
Continuing our series of the Four P's in developing curriculum, we will now discuss Purpose. Once you have clearly evaluated your current program, as discussed in the previous blog post, the way is paved to define a set of concrete objectives, which will be the cornerstone of your curriculum, helping to streamline and inform countless decisions. Referencing and adhering to predetermined objectives will result in a clearly measurable and effective final curriculum.
LOOKING BACK
Before going forward with a new curriculum, look to your organization's past. Did the past curriculum fall short, meet, or exceed your expectations? Realistically assessing success or failure will help you tailor current expectations to a clear set of relevant and attainable objectives. Expectations that are too low could patronize students, while too-high expectations will unduly frustrate.
LOOKING FORWARD
When deciding on the objectives of your curriculum, consider the professional and educational goals that students will be expected to reach by the end of the course.
How will students be expected to use the language?
The students' future responsibilities will dictate the type and level of proficiency that your curriculum will be designed to achieve. Consider the jobs, assignments, missions, and tasks that students will perform in the target language.
In what contexts will the students be using the language?
Potential contexts might include academic, professional, governmental, personal, and military settings. Consider the linguistic backgrounds and expectations your students will interact with using the target language.
While you don't want to necessarily "teach to the test," it's important to know what method will be used for assessing students' proficiency. These tests will serve as a way to plainly discern the success of your curriculum. For example, the Oral Proficiency Interview is a widely recognized speaking exam that would measure speaking proficiency, while the Defense Language Proficiency Test is a multiple choice exam that would better assess the success of a course aimed at reading and listening proficiency. If the success of the course will not be measured by students' test scores, your organization should define an alternative rubric.