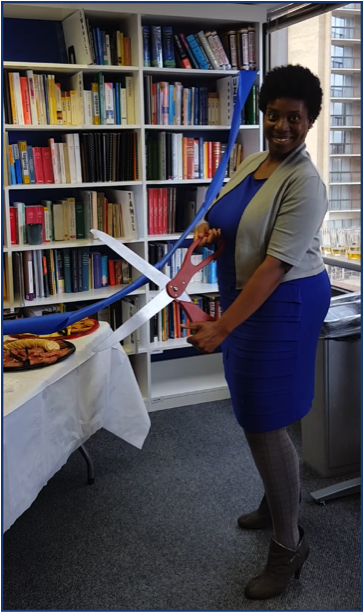 February 22, 2016
DLS Library Open House/Ribbon Cutting Ceremony
DLS hosted their brand new library's Open House ceremony last week. The event began with DLS' Operations Team lead, Patricia Quansah, cutting a large blue ribbon with giant scissors to kick everything off! Champagne or sparkling cider, tasty finger foods and great conversation were had by all.
The library has a collection of over 1,000 books in circulation in over 80 languages. The vision of the library came in 2015 and it was a collaborative effort by the DLS front desk operations team. Tyler Frattalone, Capture Specialist, explains, "The goal was to maximize the space in the room while showcasing the view of Georgetown." The library books were moved into the new sunny space and new furniture brought in to create the bright, open and welcoming space it is now!
Leigh Heylin, Learning Technology Specialist, showcased the new touch-screen desktops for teachers and students. Live demos of language apps and websites were a huge hit. The new "App of the Month Series" was introduced to everyone. The new series will be hosted monthly by Leigh Heylin both virtually and in the 6th floor library. Both instructors and students will have the opportunity to learn about a new language technology application each month. The series debuted on Wednesday, February 24th with Zoom, our new preferred virtual online classroom application.
If you are interested in checking out a physical book or learn more about language technology tools, please come to the 6th floor library! We would love to make it a study space as well, so bring your books, laptops and a nice cup of coffee, too!