In Country Language Training
In Country Language Training
DLS Partner Schools
Language learners know that there is no place like Shanghai or Taipei to polish your Chinese, or Naples to put the finishing touches to a long-term Italian language program. And frankly, who wouldn't want to go to Rabat to get their hard-earned Maghrebi Arabic 2/2 closer to a 3/3, or to a small Provencal town to really get a handle on French idiom? And how does an immersion Brazilian-Portuguese refresher in Pernambuco sound?
DLS Partner Schools programs offer students opportunities to participate in outstanding language and cultural training overseas, while dealing directly with a well-established US-based language services provider with over 30 years' experience delivering top-rated language and cultural training programs to USG and DOD employees, and private-funded students.
Students who need a full immersion program in a target-language environment can come to DLS Partner Schools confidently knowing that their language and cultural program will meet the highest academic standards, while providing safe, convenient and comfortable local accommodation.
DLS Partner Schools have been carefully selected to challenge students to use the target language at all times, and are often not in major cities, where English offers a distraction.
All Partner Schools have agreed to work with our Program Management and Language Training Supervisory teams so that the highest academic standards are met, and all administrative tasks are covered effectively.
Safe, convenient and comfortable local homestay accommodation is a great option, for full immersion.
We ensure that partner schools are familiar with ILR (FSI) and DLPT/OPI goals, and provide assistance with program planning and materials selection, thus ensuring that all DLS students overseas have a meaningful and worthwhile learning experience.
DLS Partner Schools offer an attractive, cost-effective option for those who need in-country language experience:
DLS Program Managers and Language Training Supervisors constantly liaise with our partners, and with overseas students to ensure that goals are being met, and that the highest standards are being maintained.
Language learners already overseas can now experience the same high-quality results-driven DLS language training that our US-based students have come to expect.
DLS works with the partner school to tailor all programs to the needs of individual students.
You can even test (ILR/FSI-format) with DLS testers and examiners at the end of your program.
From a student studying French in Naples, Italy in 2015:
Thank you for an excellent French Instructor! Luci and I met today and we have a schedule and a plan to execute 10hrs of instruction per week for five weeks.
And later in the program:
On several occasions I have confirmed [ to the DLS Partner School Director] the quality and accommodations made by her instructor in the middle of this rainy winter season here in Naples, Italy. The instructor has gone above and beyond what other schools were able or willing to accommodate and I am very appreciative and grateful.
From a student studying Malay in Singapore in 2014:
I have nothing but good things to say about what [DLS's Partner School in Singapore] provided to me in the form of both language and cultural immersion. From the daily classroom sessions to setting up immersion trips to Malaysia and local markets of Singapore, I have experienced a unique side of the South East Asian culture that surpassed all of my expectations. I can tell that my language abilities have definitely increased, but I suppose that will only be assessed via a test following my return. Beyond language is the often overlooked importance of understanding culture as it allows for a unique channel to understand why countries do what they do, and make certain laws that are often very different than our own. I would like to thank [DLS] for helping set up this wonderful trip - truly a once-in-a-lifetime experience.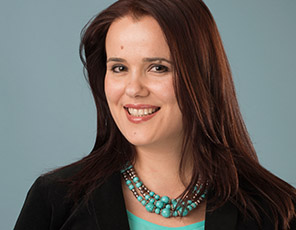 Alma Sadikaj has several years of combined experience in international development, political affairs, program management, training and coaching, human resources and recruitment, logistics and operations, education, administration, marketing, sales and client relations.
Prior to joining us, Alma worked in both the non-profit and private sectors. Her passion is travel. During those journeys she acquires insights about how cultures and languages are linked.
Phone: 703-243-4855 ext. 149
Email: ASadikaj@dlsdc.com