DLS Crash Course - Moroccan Arabic Language and Culture
03.21.2018
4:00pm - 5:30pm
DLS Crash Course - Moroccan Arabic Language and Culture

DLS welcomes you to the first session of our new Crash Course series, each of which will feature DLS instructors of varying linguistic and cultural backgrounds. The purpose of these sessions will be to highlight a new language and culture for your personal edification, as well as to give you a peek at our extraordinary team. Whether you are considering taking a class at DLS yourself, you have employees for whom you anticipate needing language instruction, or you simply have an insatiable curiosity about the wide world of languages and cultures, you will walk away from DLS' first Crash Course with a better understanding of the language(s) and culture of Morocco.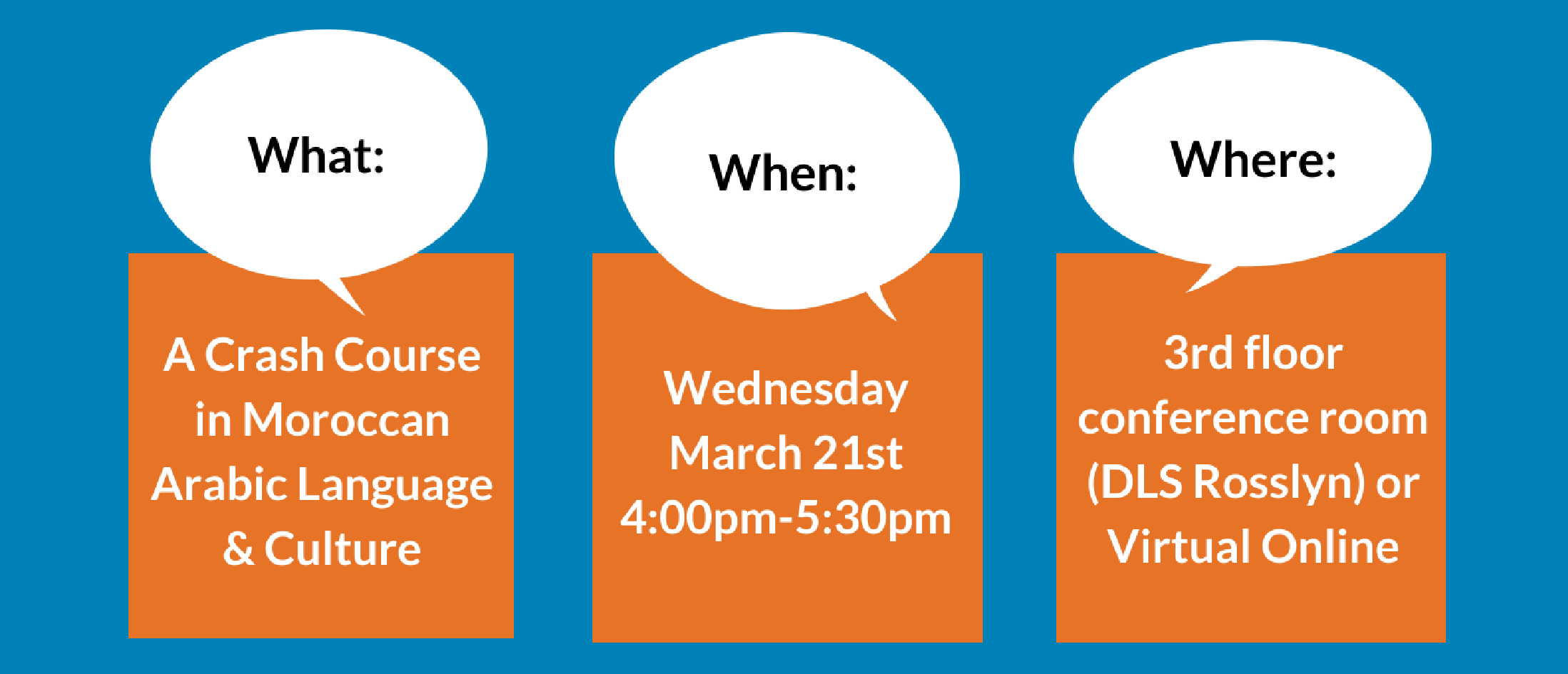 Jalila Zaaboul, a trusted member of the DLS team since 2014, has been teaching languages for more than 10 years. A native of Morocco, she is fluent in Modern Standard Arabic, the Moroccan dialect, and French. Jalila has conducted OPI testing, is an experienced interpreter and translator, and has led many cross-cultural trainings over the years. Her effective yet engaging teaching style is frequently praised by her students.

Jalilia will be covering:
Basic phrases of the Moroccan dialect
The history of Morocco's languages
Cultural do's and don'ts
Unique Moroccan customs and practices

Jalila will present on Wednesday, March 21st from 4:00-5:30pm. Subsequent Crash Courses, each to feature a different instructor, will be held bimonthly, on the third Wednesday of the month. So stay tuned!
Questions or comments about this event? email: kmarden@dlsdc.com
1901 Fort Myer Dr #300, Arlington, VA 22209, USA